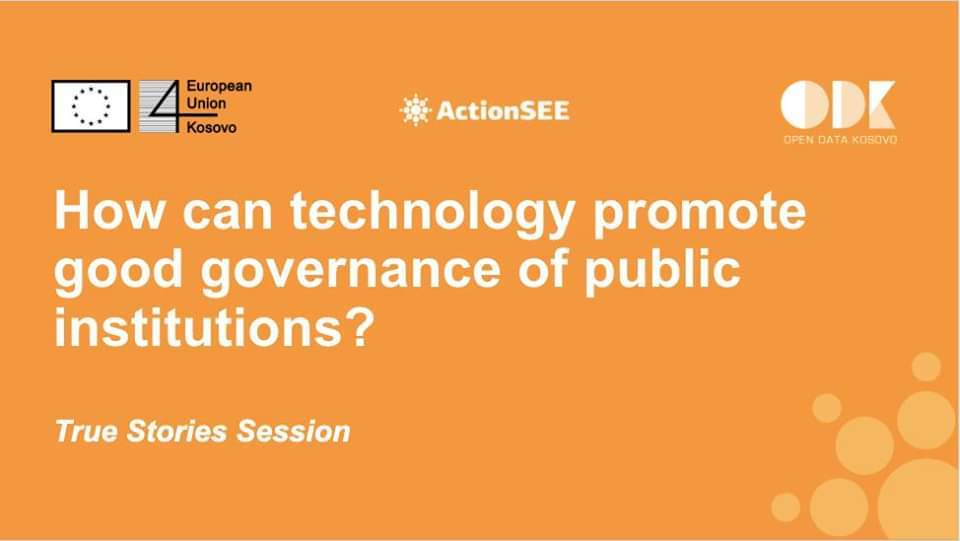 As part of Anti-Corruption week, Open Data Kosovo and European Union in Kosovo are pleased to invite you to our anti-corruption session, namely "How technology can promote good governance of public institutions".
The openness of public institutions is a key condition of democracy since it allows citizens to receive information and knowledge about equal participation in political life, effective decision-making and holding institutions responsible for policies they conduct. There is a list of tools that can be used that would order to effectively limit the part of human error. The tools which can be used are digital public services, crowdsourcing platforms, whistleblowing tools, transparency portals and inclusion of artificial intelligence (AI).
One session will be dedicated to True Stories, some distinguished representatives of NGOs and Media Organizations will present actual cases on how Kosovo citizens with the help of CSOs have successfully fought back against abuse, injustice and corruption.
09:30 – 10:00 Registration
10:00 -10:20 Opening Remarks
Blerta Thaçi, Executive Director – Open Data Kosovo
Luigi Bursa, Head of Cooperation – European Union in Kosovo
10:20 -10:40 Presentation of the Roadmap for Good Governance; Tools of Tech
Blerina Ramaj, Project Manager of ActionSEE
10:40 -11:15 Trues Stories
Faik lspahiu,- Kallxo.com
Diana Metushi Krasniqi, Kosovo Democratic Institute
Jetmir Bakija, Democracy Plus
Moderated by: Majlinda Dervishi, Open Data Kosovo
11:15 – 11:40 Open Discussion
11:40 Closing